Miyajima Travel Guide (Part TWO)
THE MOST BEAUTIFUL PLACE IN THE WORLD!
PART TWO:
CHECK OUT my video about Miyajima Island!
So just to reiterate from my first post... Miyajimi is one of the most beautiful places I have been to thus far. There is a lot of traditional Japanese culture (such as homes, temples, shrines, etc.) that still exist despite the fact that it is a constantly sought out tourist destination. There are lots of hidden gems on the island that deserve to be checked out. So without further ado...
(SIDE NOTE: There is so much to see and due to that I separated this post into two parts. For PART ONE: ** CLICK HERE **)
1) Torii 鳥居
One of the most famous Torii gates in all of Japan is the one on Miyajima Island. This is the torii gate you see in many pictures. It is the one that looks like it is floating on the water during high tide. You can see this as you make your way towards Itsukushima Shrine (厳島神社) and during the ferry ride on the way to the island. This is a very famous part of Miyajima Island and hard to miss. During low tide you can actually walk out and stand right under the giant torri gate. I will admit its' size up close is pretty daunting.
Here are a few pictures of the torii gate. The pictures are from different trips, just an FYI.
2) Itsukushima Shrine:
厳島神社
Now I feel like I shouldn't have to say much about Itsukushima Shrine 厳島神社. It is one of the most famous shrines in all of Japan. It is incredibly beautiful and an absolute must see if you travel to Miyajima. It does have an admission fee, but it is well worth the money. It costs about 300円 (roughly about $3) to enter. If you are a foreign exchange student and have the "HIC" card then it is free! Whoop whoop for being an exchange student! Upon entering the shrine you will get to take part in the traditional purification process, where you use the wooden ladle and cleanse your hands and mouth.

Here are a few pictures I took while at the Itsukushima Shrine 厳島神社: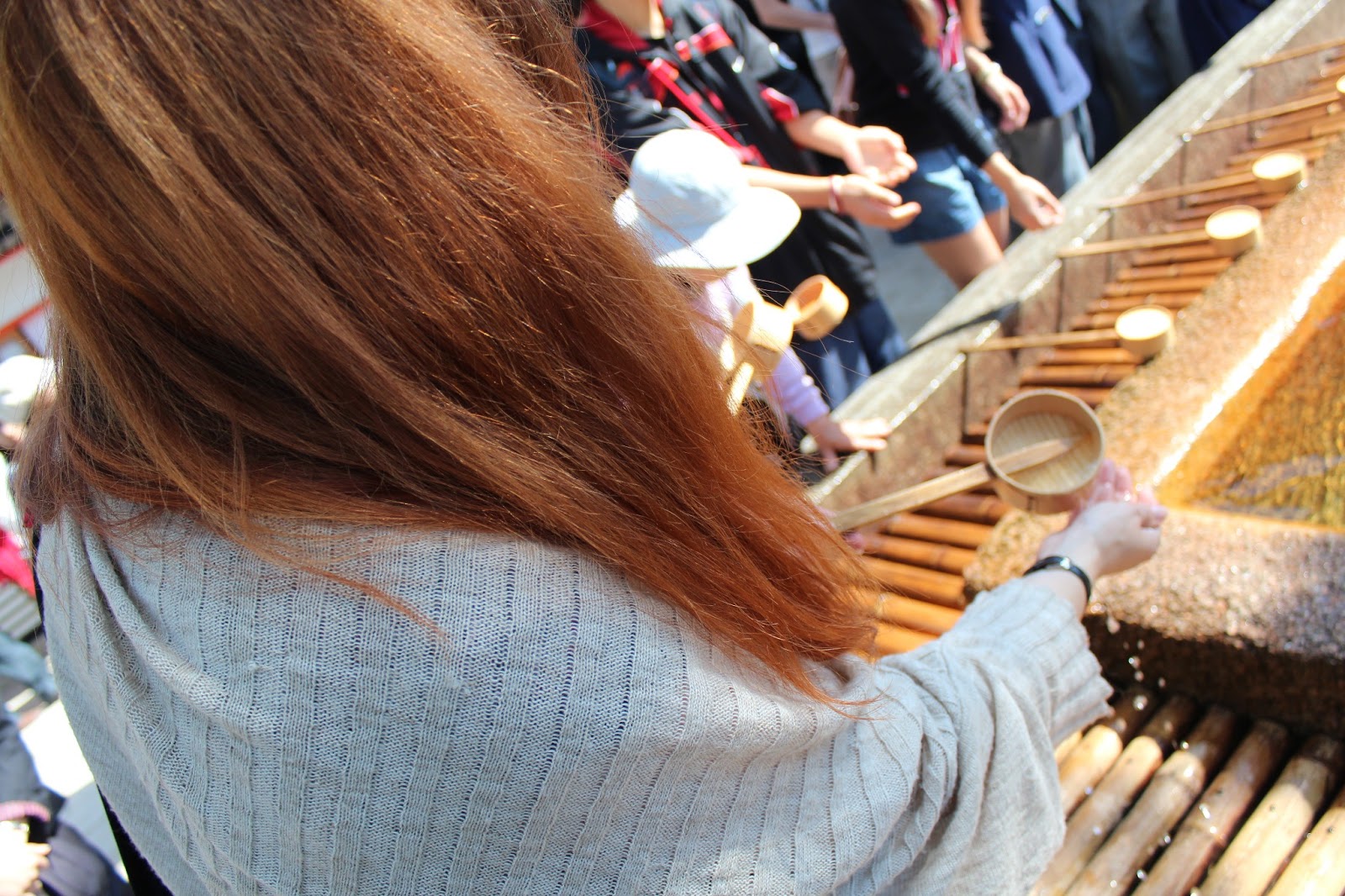 3) Traditional Japanese Style Wedding:
Multiple times I went to Miyajima Island and almost every time I was lucky enough to witness a traditional Japanese-style wedding. I have heard from numerous people that during the months of good weather there will often be weddings that take place. So hopefully you will be as lucky as I was when I went.

Here are some pictures I managed to get of the weddings:
4) Daishou-In:

大聖院



(Buddhist Temple)
Last, but certainly not least is Daishou-In (大聖院). This has to be one of my favorite spots on all of Miyajima Island and in all of Japan for that matter! It looks deceivingly plain from the outside, but once you enter and you start to walk up the long staircase to the top it is amazing. I can't stress enough how much I loved it there. It is located near the exit of Itsukushima Shrine, so it is not hard to find. Also, a small plus, there is no admission fee.
Lastly, here are some beautiful shots I managed to capture while visiting Daishou-In 大聖院...
I hope that this information was helpful! All of the suggestions in this blog post are my own personal opinions. So please take this information with a grain of salt. It may not be consistent with others' opinions on the Internet, but I have been there a few times now and this is just simply what I recommend. Hope you enjoy!
Once again:
CHECK OUT my video about Miyajima Island!
For PART ONE: ** CLICK HERE **
If you have any questions or comments, you know what to do....
- Butters